When you're looking to add a platform that tracks offline conversions to your marketing stack, and start searching for prices, CallRail pricing just might come up.
If you already are a CallRail customer, chances are you've received more than a couple of emails about pricing increases, so again naturally you might be trying to find more about CallRail pricing.
In order to give you a better understanding of this call tracking platform, we've put together a comprehensive overview of CallRail pricing plans and the features that even smaller teams might want, so you can see what it'll cost you and if it's capable of growing with your team.
By the end of this blog you'll have a snapshot of CallRail pricing plans in terms of:
Price
Features
How these plans stack up to Nimbata
What is CallRail?
CallRail is a call tracking and analytics platform designed for businesses to track phone calls, qualify leads, and analyze the effectiveness of their marketing campaigns. It provides customer interaction data from phone calls, including the source of the call and information about the callers themselves. CallRail offers features such as call tracking, call routing, call recording, lead and conversion tracking, and analytics.
CallRail pricing plans
To sum it up, here are the available CallRail pricing tiers. The price decreases if you choose to bill annually instead of monthly.
Call Tracking: $45/month + usage
Call Tracking + Conversation Intelligence: $95/month + usage
Call Tracking + Form Tracking: $95/month + usage
Call Tracking Complete: $145/month + usage
Does CallRail have a free plan?
No. CallRail doesn't offer a free plan. Every account starts with a 14-day free trial and then gets billed depending on the plan you subscribe to.
What's included in CallRail pricing plans?
CallRail pricing plans come with a variety of features like different add-ons and integrations. Below are some of the features offered, broken down by plan.
1. Call Tracking plan
The Call Tracking plan includes the following features:
5 local phone numbers
250 local minutes
100 text messages
Unlimited users
Email summary reports
Offline and online call tracking
Keyword-level attribution
Localized Dynamic Number Insertion (DNI)
Call recording
Session-level tracking
2. Call Tracking + Conversation Intelligence plan
Everything in Call Tracking plan plus:
Call transcripts
Keyword analysis
3. Call Tracking + Form Tracking plan
Everything in Call Tracking plan plus:
Form Tracking
Custom Form Builder
4. Call Tracking Complete
Everything in Call Tracking plan plus:
Call transcripts
Keyword analysis
Form tracking
Custom form builder
CallRail integrates with a variety of applications, including Wix, HubSpot Marketing Hub, Marin Software, Salesforce Marketing Cloud, Zapier, and more.
Nimbata: A better CallRail alternative
To better understand the value provided by Callrai's price and features, it's worthwhile to compare it with other call tracking platforms out there. Nimbata is a great choice for comparison, as it's built by marketers for marketers, with stellar support and the only call tracking platform that doesn't charge per minute – but per answered call!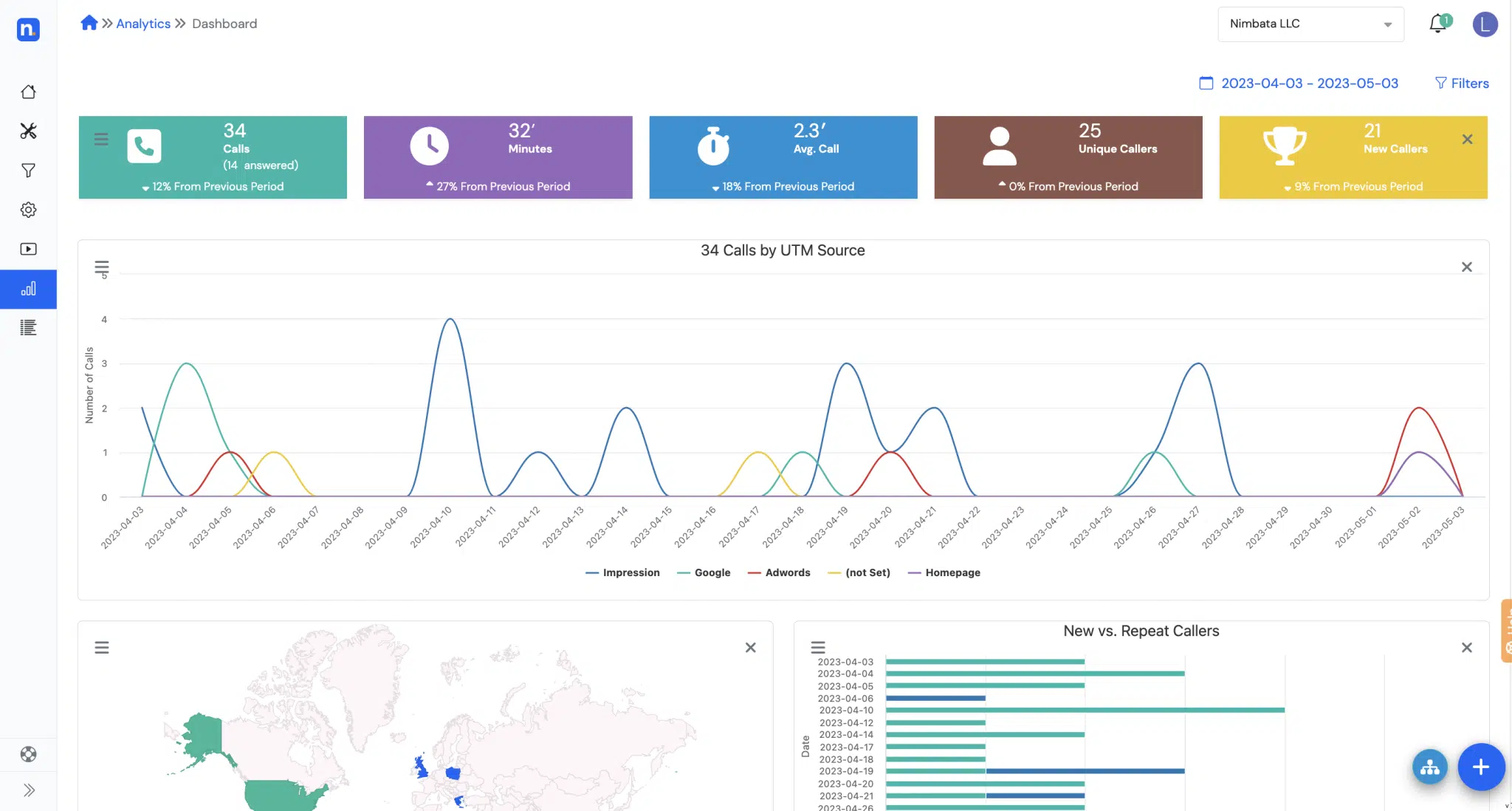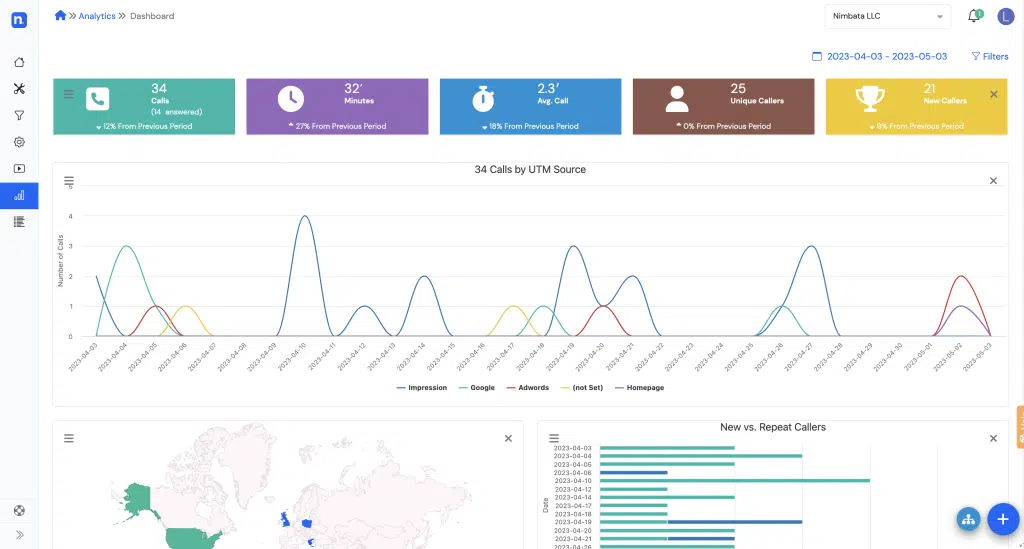 What is Nimbata?
Nimbata is a call tracking and lead management software which helps marketers and business owners understand their call volumes and phone lead quality. The tool is designed by Marketers for Marketers, enabling them to track which channels are driving the most phone calls and optimize their marketing ROI.
Nimbata offers a range of call tracking and analytics features, including call recording, call transcription, call tagging, and call reporting. These features help businesses understand caller behavior and call outcomes, allowing them to improve their call handling processes and provide a better customer experience. In addition, Nimbata integrates with a range of other tools, including Google Analytics, Google Ads, and Salesforce, providing businesses with a comprehensive view of their marketing and sales performance.
Best Features: Customizable Dashboard, Reporting Views and Automation Rules
Pros: Simple and easy to use interface, 24/7 human support available, Pay per answered Call model
Best for: Attributing phone leads to different channels and pushing only quality call data through integration triggers to Marketing & Sales tools (Google Analytics 4, Google Ads, HubSpot)
Detailed Pricing
Entry Plan: Free
Pro Plan: $39/month.
Marketing Plan: $89/month.
Agency Plan: $149/month
On our pricing page, you can experiment with the different options to find the perfect price and solution for your team and budget.
Nimbata vs. CallRail: How do they compare?
Here's a brief comparison of the features available in Nimbata and Callrail.
| | | |
| --- | --- | --- |
| Free Plan | | |
| Annual Commitment Discount | up to 20% | up to 10% |
| Pricing aligned to # of leads you get | | |
| Cost of lead | Per Answered Call | Per Talking Minutes |
| Local Number Prefixes for 74 countries | | |
| No-extra charge for add-ons | | |
| Included Advanced Call Flows | | |
| Included Advanced Integrations | | |
| Integration Triggers | | |
| Free form submissions | | |
| Customizable Dashboard | | |
| Call Activity Views | | |
| Shareable Reports | | |
| Dedicated Call Tracking Experts | | |
| Real-time Support | | |
What level of support does each platform offer?
CallRail offers customer support via a form you fill out with your details and relevant comments or attachments.
At Nimbata we offer 24/7 support via chat, email or phone and our Help Desk every day of the year. In addition to our support, we also have a knowledge center and YouTube channel full of useful tutorials and new feature updates.
Don't just take our word for it. Compare what real users are saying about our stellar support.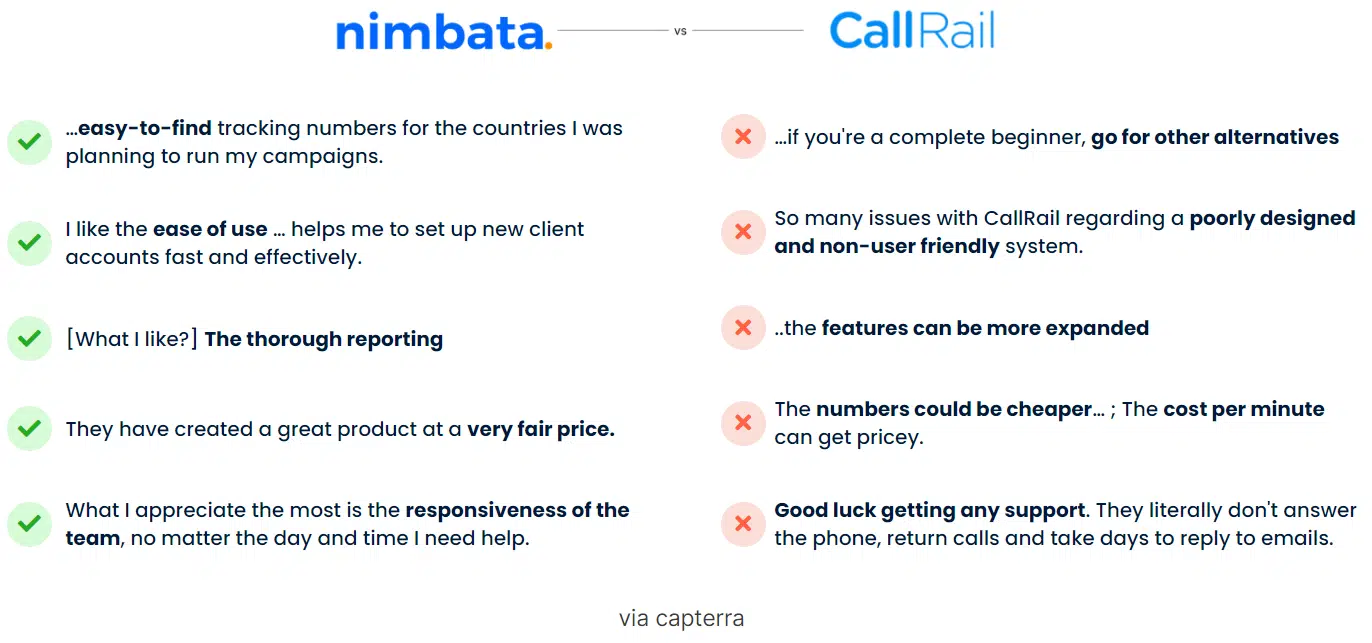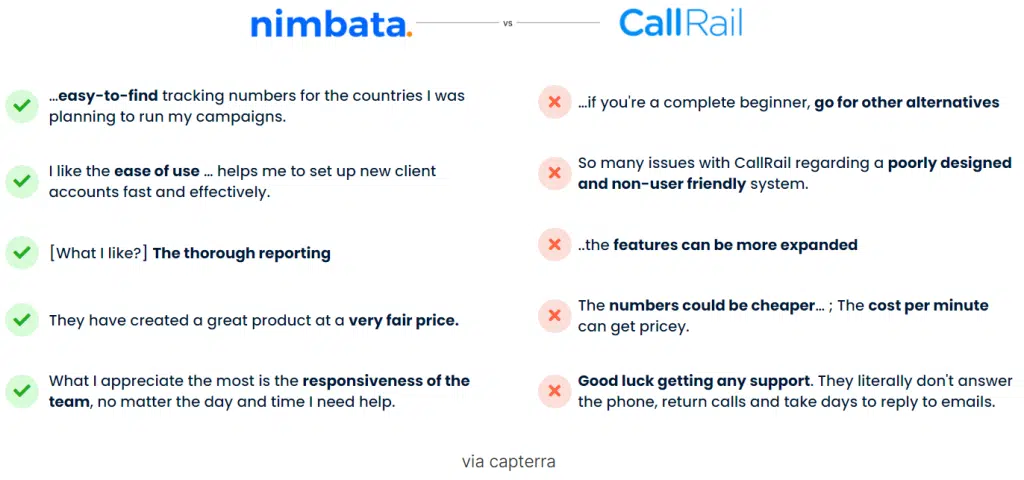 Is CallRail worth the investment?
Now that you're armed with all the right information, use these questions to drive home if Callrail's cost is right for you:
How important is it for you to have call tracking specialists available to answer any question you have?
Are you looking for a scalable and flexible solution that will serve you in the long run?
Should call tracking be expensive?
On review sites like G2, Trustpilot and Capterra, Nimbata has an average rating of 9.5/10! Many reviewers felt that Nimbata meets their needs better than Callrail. They found it easier to use, setup, and enjoy the support.
Ready to give it a go?