If you can't measure it, you can't improve it.
Gone are the days when businesses ran marketing campaigns without being able to measure outcomes. Digital marketers know exactly what I'm talking about.
Depending on the product or service, customers might convert in a different way. But hey, you can track all of them.
Online purchases? You got it
Clicks on your campaign? Easy peasy.
Phone calls? Technology has made Call Tracking easier and cheaper than ever
Below you'll find a list of 2021's best call tracking software apps.
Best call tracking software apps of 2021
1. Nimbata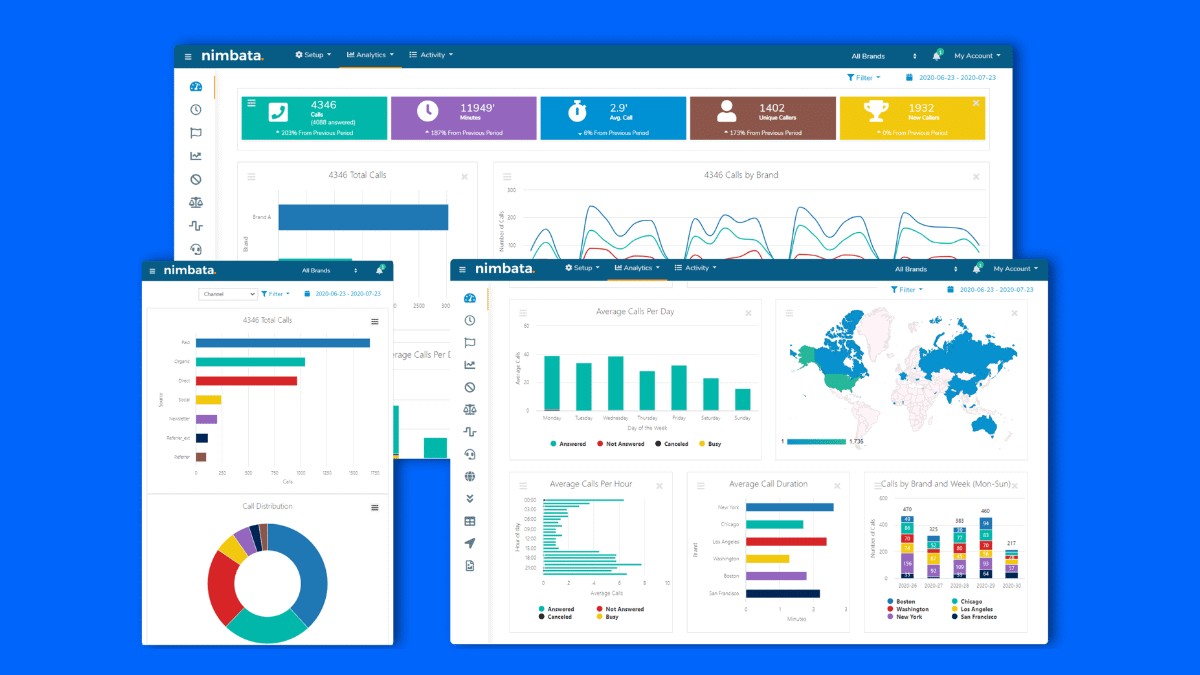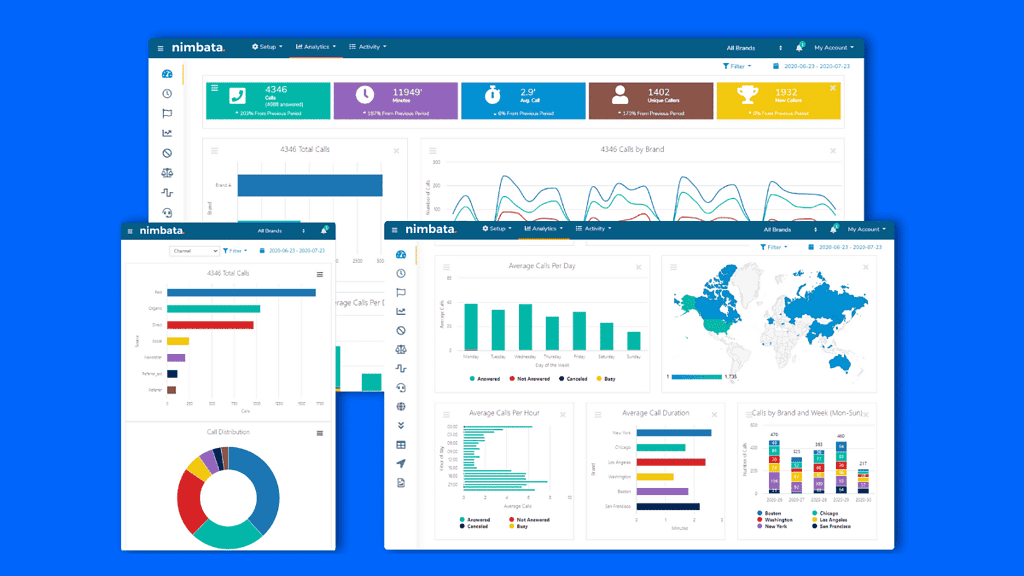 Nimbata offers plug-n-play Call Tracking without having you commit to annual contracts.
Whether you're a marketing agency, local small business or an enterprise organization, Nimbata has all the Call Tracking options you need.
Over 1000 brands across 50 countries trust Nimbata to understand which ads are driving phone calls.
Competitive advantage
Reports every single phone lead
Setup and track calls in less than 5 minutes
Support from marketing professionals with deep knowledge in lead tracking

Only call tracking platform

that charges per answered call (regardless of call duration) and not per minute.
Pricing plans
Entry: 0$/mo + usage (Perfect for 1-person businesses)
Pro: 29$/mo + usage (Perfect for Small Businesses)
Marketing: 89$/mo + usage (Perfect for Agencies and Enterprises)
2. Invoca
Invoca's Active Conversation Intelligence platform enables marketing, eCommerce, sales, and customer experience teams to understand and immediately act on the information consumers share via conversations. Through deep integrations with leading technology platforms, revenue teams can turn conversation data into automated action to enhance every digital touchpoint and human interaction, leading to better experiences, more conversions, and higher revenue.
Competitive advantage
AI-powered analytics
Great for coaching sales agents
Wide variety of reports
Pricing plans
Not publicly available
3. Marchex
Marchex is a leading conversational analytics company that connects the voice of the customer to your business. Marchex leverages proprietary data and conversational insights to deliver real-time solutions that enable brands to personalize customer interactions.
Competitive advantage
AI Messaging & SMS
Conversational analytics
Custom reporting
Pricing plans
Not publicly available
4. Call Tracking Metrics
CallTrackingMetrics a digital platform that uses call tracking intelligence to inform contact center automation. Discover which marketing campaigns are generating leads and conversions, and use that data to automate call flows and power your contact center.
Competitive advantage
Great features for Call Centers
Sales Agent reporting
IVR Automations
Pricing plans
Business: 39$/mo + usage
Marketing: 99$/mo + usage
Contact Center: 299/mo + usage
5. CallRail
CallRail brings visibility to the marketers who rely on quality inbound leads to boost success and sustain growth. CallRail's customers live in a results-driven world, and giving them a clear view into their digital marketing efforts is a first priority for CallRail. Often overlooked by other marketing tools or analytics platforms, they see the opportunities in surfacing and connecting data from calls, forms, chat and beyond.
Competitive advantage
Online form tracking
AI-powered call analytics
Integrations
Pricing plans
Call Tracking: 45$/mo + usage
Call Tracking + Lead center: 75$/mo + usage
Complete CallRail Platform: 175$/mo + usage
6. WhatConverts
WhatConverts makes it easy to attribute sales to traffic sources based on phone calls, web forms and transactions. WhatConverts offers a full circle lead tracking system where you'll no longer be left wondering where leads originated or what leads converted.
Competitive advantage
Online form tracking
Custom reporting
Variety of integrations
Pricing plans
Plus: 30$/mo + usage
Pro: 50$/mo + usage
Agency: 200$/mo + usage
7. Infinity
Infinity is a call intelligence platform. Providing transformational business tools to gain intelligence from every conversation with prospects and customers. To drive more sales, optimise marketing and streamline operations.
Available in over 75 countries, Infinity's technology allows you to measure which marketing channels generate calls giving you complete insight into every touch point of your customer's journey.
Competitive advantage
AI-powered Call Intelligence
Great help center
Suited for large scale businesses in the UK
Pricing plans
SMB: £99/mo (~135$/mo) + usage
Pro: £199/mo (~270$/mo) + usage
8. Ruler Analytics
Ruler Analytics offers call tracking, form tracking, CRM connections + more. It enables marketing teams to optimise their activities for more than form fills, create a lead-to-revenue reporting infrastructure and create better alignment with the sales team by passing data into their systems.
Competitive advantage
Form tracking
Variety of integrations
Chat tracking
Pricing plans
Call Tracking: £99/mo (~135$/mo) + usage
Marketing attribution: £149/mo (~204$/mo) + usage
Call Tracking+Marketing attribution: £199/mo (~270$/mo) + usage
9. Ringba
Ringba provides enterprise grade call tracking to businesses, pay per call networks, agencies and performance marketers of all sizes.
We give our client's unparalleled real-time tracking and analytics like no one else in our industry. Our detailed reporting is designed for media buying, click arbitrage, and massive scale. All without contracts, minimums, or overages.
Competitive advantage
Flexible call routing
Custom reporting
Ability to create caller profile
Pricing plans
Basic: 0$/mo + usage
Premium: 99$/mo + usage
10. ResponseTap
Since 2008 ResponseTap has been pioneering advanced visitor-level call tracking, heralding many industry firsts, including integration into Google Adwords and Google Analytics.
Allowing marketers to connect the customer journey to the phone call, and for call centers to start the conversation where the online journey left off, Call Intelligence optimizes campaigns and improves the customer experience.
Competitive advantage
Easy configuration
AI Speech analytics
Smart call routing
Pricing plans
Not publicly available
Why is Nimbata one of the best call tracking software out there?
All call tracking platforms offer similar functionality and features with minor differences.
But for marketers looking to effectively track phone leads without breaking the bank, you can't go wrong with Nimbata.
Want to learn more about Nimbata's call tracking?
Get your free trial below – it will enable you to track all your phone leads for the next 2 weeks.